Integrated online shop for takeaways
Online shop for takeaways, from a single mobile kitchen to a chain of fast food restaurants. Professionally built and seamlessly integrated to your website, it generates new revenue for your business.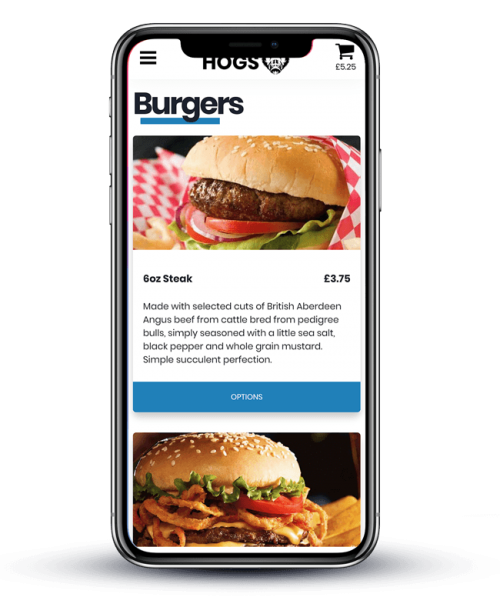 Benefits To Your Business
Provides more time to prepare orders.
Encourages a fast, efficient service, cutting queues.
Builds a loyal customer base for promotion and cross-selling.
Makes use of kitchen staff during quiet periods.
Displays up-to-date menu prices.
No 3rd party advertisements or competitor ads.
Customised branding – can be customised to reflect business brand.
No per transaction fees – transparent, low-cost monthly fixed fees.
Online ordering platforms will typically charge up to 20% commission on every transaction you make, however with TouchTakeaway there is no commission fee, so 100% of the profit stays in your pocket.
Capture The Local Online Market
In today's digital world, serving your local online market with TouchTakeaway can dramatically increase your sales. In the UK, Dominos' online sales accounted for 79% of their revenue in 2017-18.
Run discount code promotions that can be redeemed exclusively on your TouchTakeaway shop. This is a great way to get customers to spend with you online.
Fast And Efficient Service
Encourages a fast and efficient service, cutting queues to impress your customers.
Allergen alerts keep your customers informed of ingredients before they place their order, so they can be sure that they can dig in to their meal.
TouchTakeaway provides you with everything you need to generate new revenue streams from online food orders with a webshop, whether for delivery or 'click and collect' pre-ordering of meals.
Require a minimum spend on deliveries. This reduces inefficient fuel/driver costs and prompts your customers to spend a little extra.
Search Engine Optimisation (SEO)
With our team of experts you can be sure your online store can easily be found by local customers on search engines such as Google.
Link your web app to your WiFi connection so customers can place an order to their table or seat number. Great for large restaurants with outside seating and stadiums / theatres.